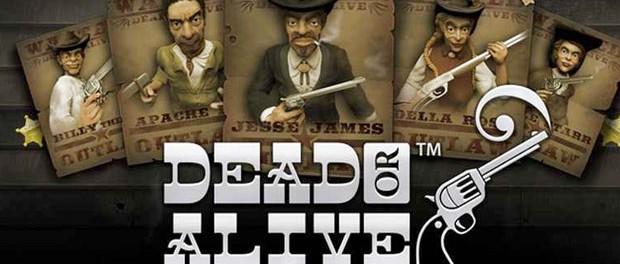 Dead or Alive Pokies Review
Head back to the Old West with the Dead or Alive pokies machine from NetEnt. Feel just like a Cowboy as you take on the Sheriff and his chums. With huge prizes galore, and a gorgeous looking pokies, this is one you are going to like to play.
How to Play Dead or Alive Pokies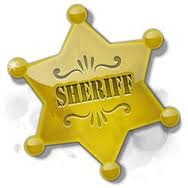 The Dead or Alive pokies offers 5 reels and 9 paylines. The minimum bet per spin is 9p and the maximum bet per spin is $18. This makes it one of the cheaper pokies that NetEnt has ever produced, even when it comes to the 'upper end'.
This game is based around the 'Old West' culture of America. From what we can establish, it is set in a bar´, or just outside of an old bar. Symbols include gun holsters, cowboy boots, and sheriff badges. While the theme of the game is something that is 'just there' i.e. it does not play into the overall gameplay of the game all that much, we must say that it is fabulously well-designed.
NetEnt could easily have taken the 'easy way out' with this game and developed something which didn't look all that great. They are a large company. They know that people will lap up their machines no matter the situation. They didn't, however. Instead, they designed a good quality machine that is a true delight to look at.
The gameplay of Dead or Alive, much the same as other NetEnt pokies, is rather simple. You jump into the game, select the amount you want to bet, select the number of potential pay lines, and hit that spin button.
One of the things that we love about NetEnt games like this one is the fact that the user interface is always so simple to understand. With pokies from other pokies machine vendors, the options tend to be hidden behind various buttons and they are not all that intuitive. With this, everything that you need is within plain sight. This makes the game wonderful to play for those newbie pokies players.
Bonus Rounds & In Game Features
There is just one feature that you need to be aware of in the Dead or Alive pokies. This feature is exactly the same feature that can be found in similar pokies from NetEnt. This is free spins (we absolutely love them!). Although, this feature has a bit more spice than your standard free spin feature, but we will come to that.
In order to trigger your free spins, you will need to get 3 or more Gun symbols. They can appear anywhere across the reels. Right away, you are going to be given 12 free spins. However, before you even start your free spins you will be awarded a random cash prize. This can be from 4 times to 2,500 times your initial stake.
Once you have your free spins, all wins are going to be doubled. The free spins make use of the 'Wanted Poster'. This becomes what is known as a sticky wild. Basically, whenever it appears on the reels during the free spins, it will be 'stuck' in place for the rest of them. If you can build up a nice collection of wilds, then you can make some serious amounts of cash. If you get 1 or more sticky wild, you will automatically be given five more free spins. You can also trigger up to 12 more free spins through the appearance of more gun scatter symbols.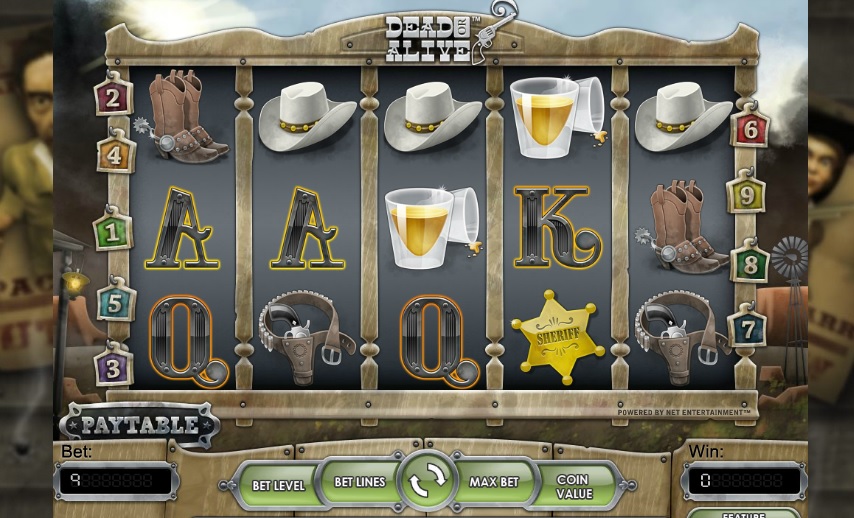 Dead or Alive Mobile Pokies
NetEnt are actual gods when it comes to mobile pokies. They know how to put together a pokies which functions on most mobile devices.
They also know how to put together a pokies which looks brilliant on even the smallest of screens. The Dead or Alive mobile pokies is no exception to this rule. If you are one of those people who loves to play pokies 'in the palm of their hand' then give this one a go. You will not be disappointed.
Summary – What Do We Think?
If you love your free spins, then you will love the Dead or Alive pokies. We love free spins and we tend to gravitate towards the games which offer them, particularly when it comes to more casual play (we are not always working!).
We love the fact that the free spins on the Dead or Alive pokies are just so fleshed out. We recommend this game. You can play the Dead or Alive pokies on any website which offers NetEnt games.
Recommedended Online Casino Sites For Australian Pokies