Jungle Jim El Dorado Pokies Review
The Jungle Jim El Dorado pokie from Microgaming is not exactly one of the most innovative pokies in the world. It comes complete with features that you will have seen repeatedly. Guess what? We really do not care. This game is fun!
How to Play Jungle Jim El Dorado Pokie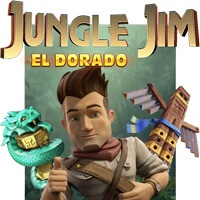 The Jungle Jim El Dorado pokies was first released in September 2016. It is video slot. There are 5 reels and 25 paylines across them. The house edge is between 3-4%. It is a medium volatility pokie. The minimum bet is 25 cents. The maximum bet is $25. Yes, this is a lower maximum than some other games that you find, but we like that. We love the fact that it is easier to become a 'high roller'.
The Jungle Jim El Dorado pokies follows an Indiana Jones-inspired character deep into the heart of a hidden temple. If you have played the 'Gonzo's Quest' pokie, then the thing is very like that.
However, we must say that we love El Dorado a little bit more. This is because the company has gone to great lengths to ensure that the graphics are sublime. We are talking beautiful cartoon images that pop out on the screen (we are not normally a fan of the cartoon style), and everything is just so dreadfully smooth. To cap it off, the music is great. It has a serious 'adventure' tone to it. Basically, this is one of the best-themed slots that Microgaming has produced, and this really is saying something.
Away from the theme of the game, there is one thing that we really love about Jungle Jim. This is the fact that it is simple to play. As you dive into the next section, you will discover that there are a lot of things that will pop up in the pokie on a feature level. The thing is, none of these features are going to be that overwhelming.
They serve as a fantastic introduction to the world of pokies. These are features that you will be encountering everywhere, and Jungle Jim introduces them to you in a simple manner. This is one of the best gateway pokies in the world.
Bonus Rounds & In Game Features
The wild pops up a lot in the Jungle Jim pokie. It does not do anything special, just replaces every other symbol so you can form some winning combinations, but it is nice anyway.
This pokie makes use of a rolling reels feature, something that Microgaming pioneered. With this feature, the symbols that make up a win are going to explode and disappear from the game. Don't worry, you are not being cheated out of your win. When they disappear, new symbols will fall into their place. This will give you the opportunity to win more. Each win you get during this feature will up your multiplier.
So, the 1st win after the 'explosion' (So your second win), will be subject to a 2x multiplier. This number goes up by 1 until you get to your 4th win and above, which is a whopping 5x multiplier.
Three scatters will give you access to the free spins mode. You get 10 free spins. The best part is that those free spins are going to lead to an even better rolling reels feature. The first win on anything will always be a 3x multiplier. This will keep doubling all the way up to a 15x multiplier! Basically, you have the potential to become mildly rich!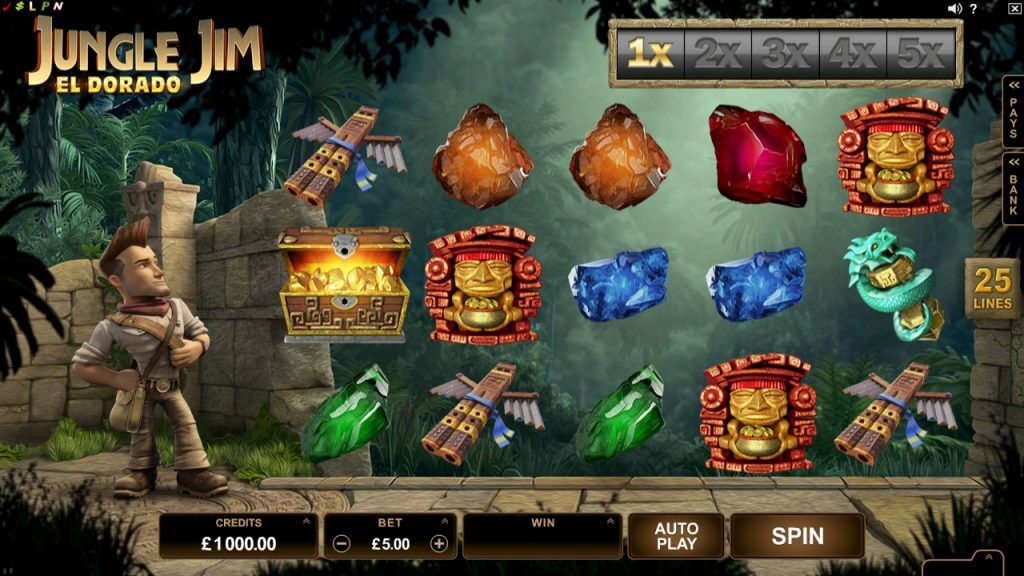 Jungle Jim El Dorado Mobile Pokie
Microgaming are very 'hit and miss' when it comes to their mobile pokies. We are pleased to say that the Jungle Jim El Dorado mobile pokie is very much in that 'hit' category. It is evident that Microgaming have finally managed to put together a pokie which works on mobile devices. They know how to code it.
They know to get those beautiful graphics working on the smaller screen. We must say, we had a smile on our face when we played this mobile game, and that is something that very rarely happens (normally it is a look of agitation and wondering whether we need to go to the opticians and we can't see those tiny symbols on the screen!)
Summary – What Do We Think?
We think that this game is seriously awesome. It has free spins. It has rolling reels. This all combines to some rather hefty sums of cash jumping into your pocket. What more could you possibly want?
If you are itching to play the Jungle Jim El Dorado pokies, you will be able to do so on any site which offers Microgaming pokies. Check out our list of top online casino sites below which do.
Where To Play Online Pokies in Australia